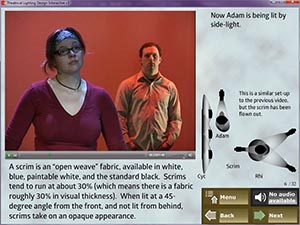 Many high school theatre teachers are truly directors with great vision. Unfortunately, you may not have the training to teach students the required skills to properly light your production. If you have an eager-to-learn high school student; this disc is the answer! Many High School teachers have purchased this software to use in their own classrooms. Now you have access to the same instruction many teachers are turning to.
Utilizing audio, graphics, video, animation, text and a powerful and intuitive interface, a student discovers and implements the very practical skills of lighting for the stage.
Many high school teachers are simply setting their technical students up in the corner of a room with a computer and this DVD - and we've received reports of wonderful results. This disc was designed for college students, and is laid out in a straight-forward manner. Interested or excited high school students have greatly enjoyed the interactive style of learning this information!
University professors: this dsic makes an excellent replacement for your current textbook for Beginning and Intermediate Lighting, and can supplement your Introduction to Theatre, or Basic Stagecraft courses.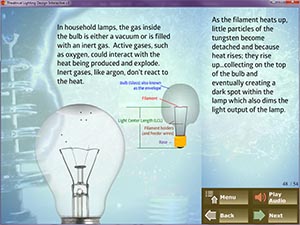 Ever notice how it's hard to set up demonstrations during class? Find it hard to get a clear stage so you can demonstrate how a scrim works? How about the difference between a hazer and a fog machine? Trust me, I know becuase I've been there. I'm a Professor at the University of Alaska Fairbanks Theatre Department - and this DVD helps me cover those areas which are hard to present on a regular basis.
The first segment I started on when creating this title was "Electricity" - because that's the are most of my students find very difficult. As soon as I introduced that section to the class, their midterm test scores went up. A professor in Ohio told me "This is simply the best way I've seen of teaching them electricity".
The included Mini Light Lab has aided my students with their design homework, and has even come in handy during my own production meetings with a few directors! I truly believe this is an excellent addition to a classroom environment.