The included "Mini Light Lab" lets you experiment with millions of options for virtual cues.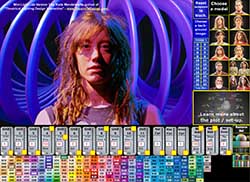 Features include:
11 lighting units in the most common positions
3 far-cycs in standard Red, Green, Blue
Each unit may be set at any intensity from 0-100%
Over 200 color choices for each instrument – based on the Rosco gel library


Over 500 backgrounds are included or you may import your own background image (scan your set rendering and "drop it in"!)
11 different models to choose from – featuring a variety of different skin tones and hairstyles!
5 different set pieces to give a sense of mid-ground (with 3 different lighting angles– and all 200+ color choices for those)!